Clicking a listing on a search results page leads to the listing's eSite. The eSite is an expansion of your listing that can display Dynamic Content which can be found in the Special Information section of your listing setup.
During listing creation, clicking on the Special Information tab allows you to expand your eSite with Dynamic Content, if your package includes it. Select the box next to your chosen content or media to set it up.



Uploading a slide show of product and services photos is a great way to make your eSite stand out. The layout type you choose in the General Information tab of your listing setup, determines how the slide show appears on your eSite. Recommended Image sizing depends on your selected layout type:




Basic & Collage eSite Layout: 910w x 640h minimum
Big Image eSite Layouts: 2700w x 890h minimum



Uploading coupons allows your customers to view and print them directly from your eSite.


Uploading adverts allows your customers to see your latest advertisements.


Have a radio commercial? Upload an audio stream.


For restaurants and similar businesses, Dining Guide and Menu features can set your business as a Restaurant.


List Modules can be used to create Menu's, FAQ's and Product lists which can help to make your business stand out.


Videos can be added to your listing by selecting a video that you've previously uploaded to your Account, uploading the video directly from your computer or linking to an external video (Youtube and Vimeo Accepted). This is an excellent way to showcase your company's commercials and more.



Once complete click Publsih now and checkout with your payment details. Your listing is then sent to moderation for approval. In the Business Information area of your account, the Status tab at the top left of your listing will read "Not Approved" until it has been processed.



When your listing has been approved, you will receive confirmation in your Yabsta Messages. The Status tab of your listing will show as active. Your business listing is now searchable in Yabsta.


Edit a Listing / eSite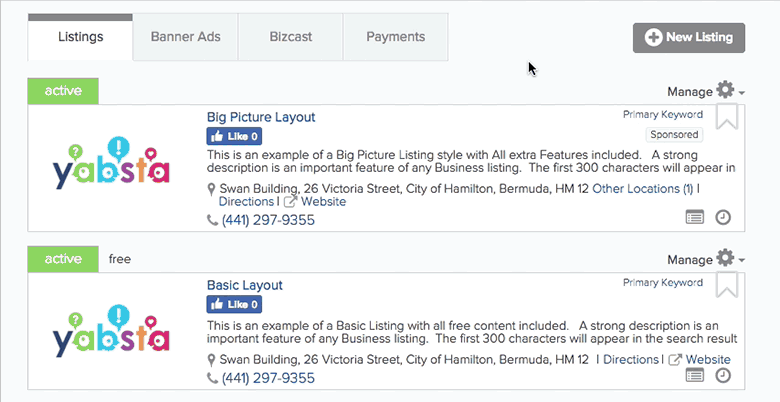 To Edit a previously created listing, select your business from you Account.


Find your listing you would like to edit and click on the "Manage" toggle on the top right.


Than click on edit to be brought to the set-up screen.


You can also delete, pay, view reports, clone and turn off your listing from the Manage toggle.
View an example of an Extended Layout listing with Dynamic Content