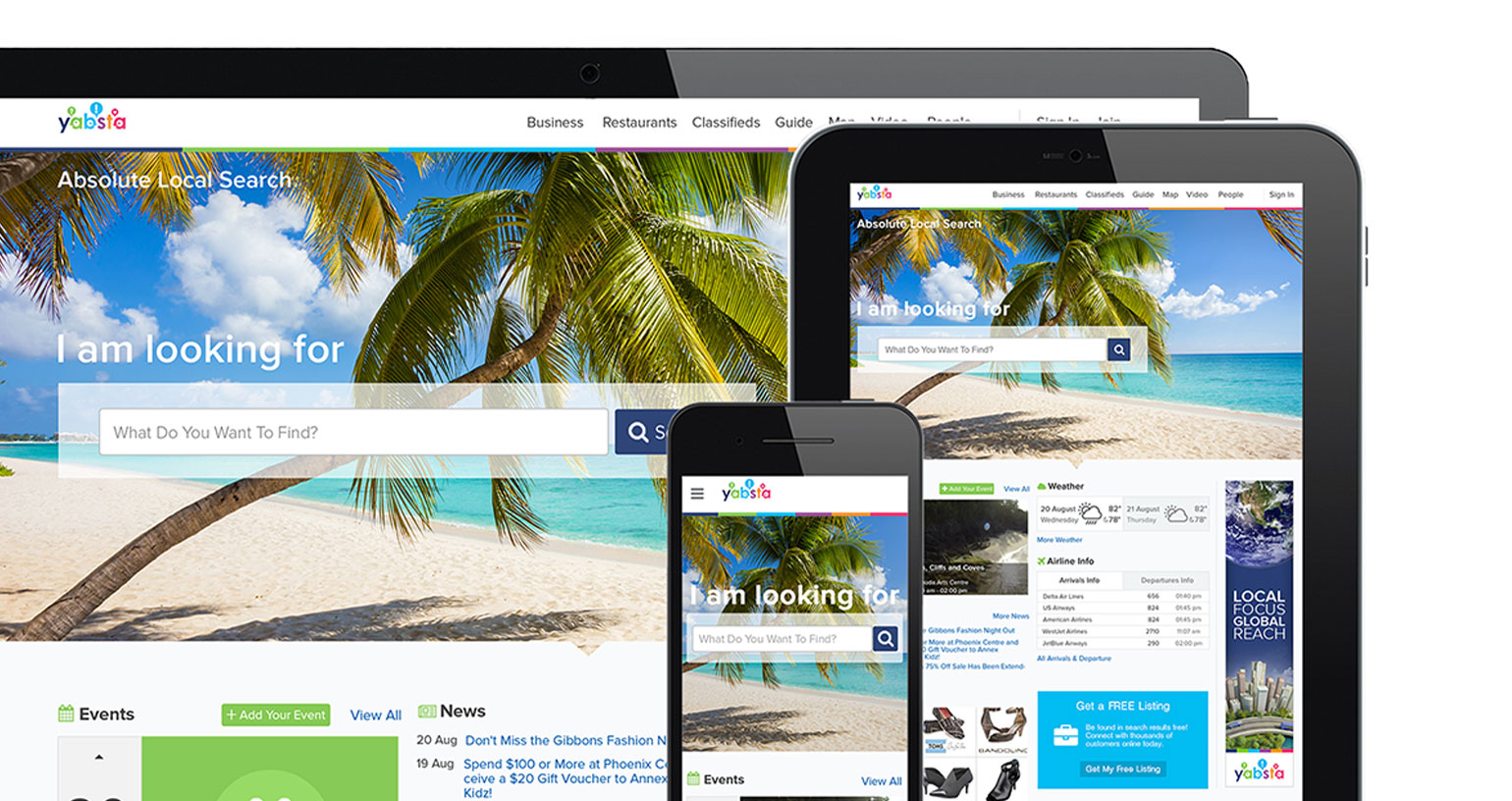 The Yabsta platform is a proprietary Content Management System (CMS) that combines advanced technology with management simplicity and ease of use. Originally built as a fully integrated online local search platform, its functionality and feature set has been expanded to allow for wider facilitation of creating, editing, organizing and publishing digital content in a multi-user environment.
Yabsta delivers targeted, content-rich search results while driving traffic via features such as local content, user reviews and free classified ads. This enables the platform to deliver the dynamic and accurate user experience that today's online and mobile users are looking for. Themed and custom built content pages utilize widgets, custom HTML and templates to allow for further customization of the platform according to industry and user preferences.
The Interface
The Yabsta platform adheres to responsive web design principles, allowing it to be optimized to render well on a variety of devices and screen sizes. It can be tailored to suit the specific needs of your business and a mobile app is also available with considerable offline capability.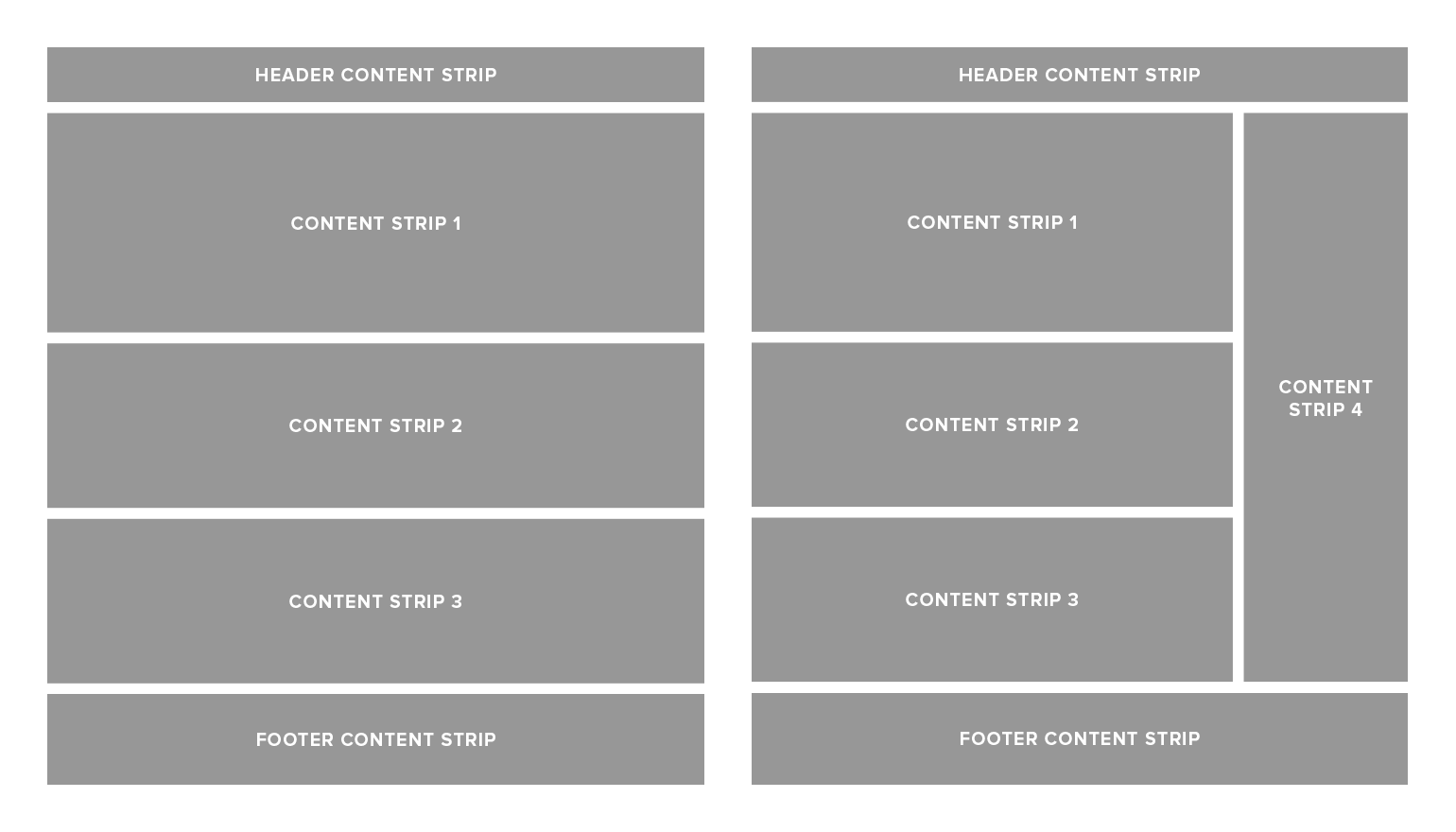 Content Strips
Yabsta utilizes a modular, building block customization style suitable for both device and touch interaction. Pages are build around high resolution imagery and modular strips that stack on top of one another and are filled with content and dynamic widgets.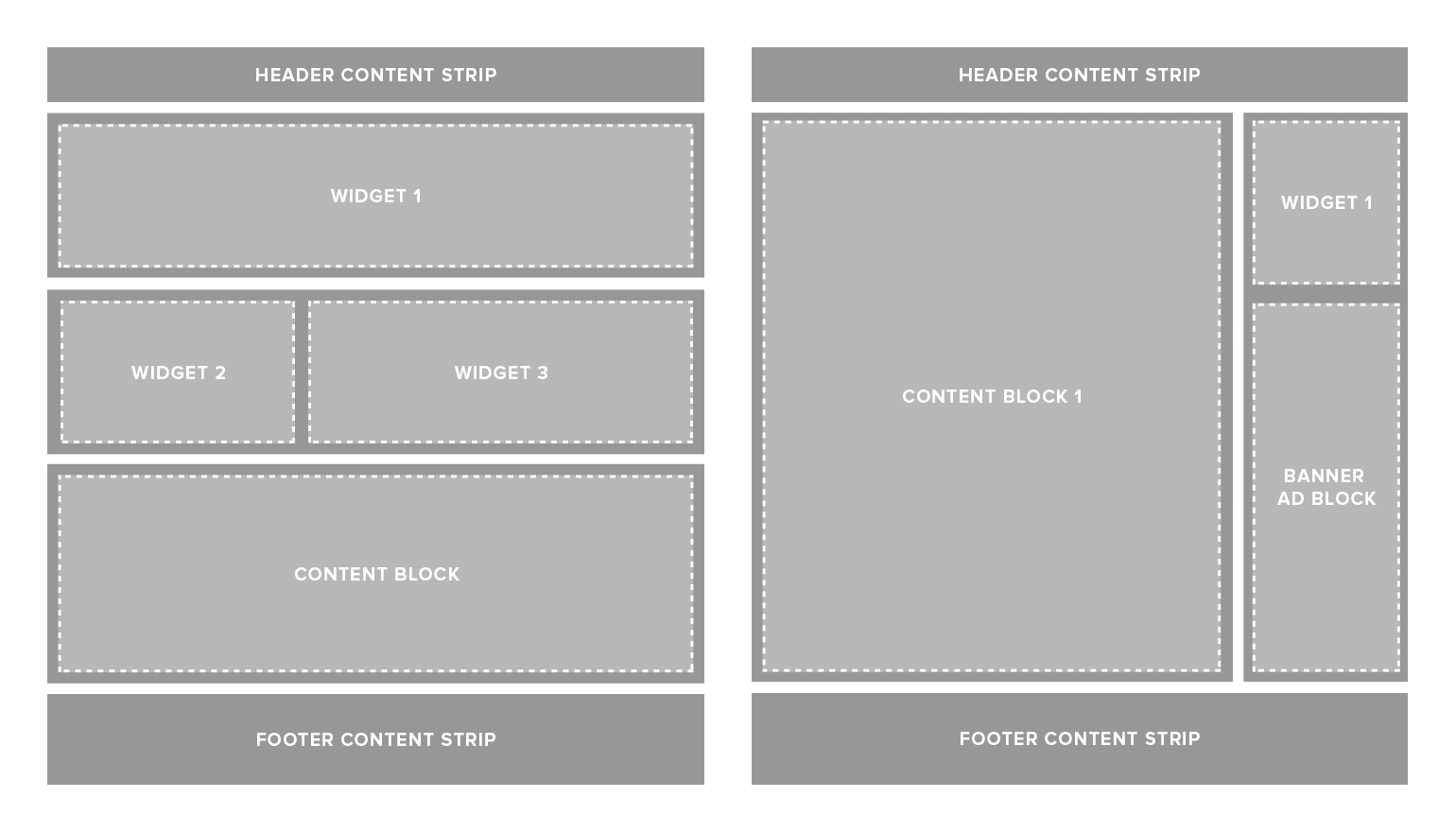 Content Blocks
Content blocks allow you to add content and custom HTML through the platform's TinyMCE interface. The TinyMCE includes pre-configured style and formatting functions and the ability to add custom HTML code dependent on the content type.
Widget Blocks
Dynamic widgets which collect and display different types of Yabsta content. Each content widget includes a number of editing options to control a number of features related to the content type. Feature examples include specifying a content type by category and its most recent additions to interactive maps.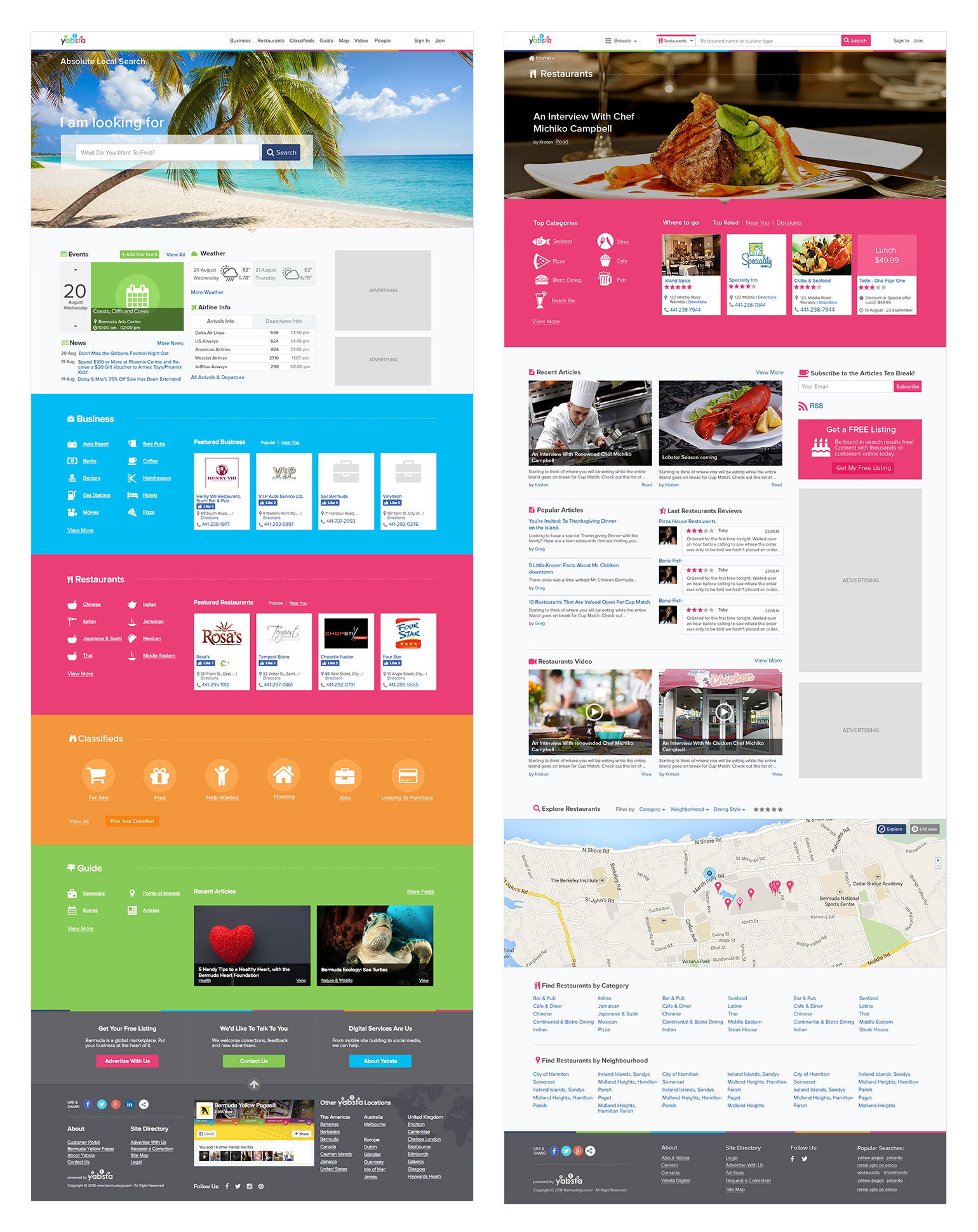 Homepage
The Yabsta homepage gives a strong welcome to site visitors, quick access to the search function and, through its content strip layout, allows you to decide how content-rich you would like it to be. You're able to feature dynamic content from each section of your Yabsta website using customizable content blocks and widgets, controlling how much or how little content to greet your visitors with.
Sections
Yabsta content is organized into sections that can be accessed from the main site navigation in the header of every page. Sections may be focused on one content type, such as business listings and classifieds, or include multiple content types such as articles, collections, POIs and more as found in the Guide.
Each section is built around a landing page that can be set-up to organize and dynamically display its section content. This includes the option to add a number of content widgets that collect and display certain content types from across a number of different sections that fit specific related criteria.
For example a Yabsta site could have a Restaurants section (See Image D). This section could start with some high quality, location-relevant imagery of food and be followed by a category selection tool for quick access to search results from different category-specific restaurant listings. A strip of featured restaurant listings could then be displayed by popularity of user reviews or location proximity. Articles, video and other content related to restaurants could then be displayed, followed by a strip that includes the map with populated restaurant listings, allowing the user multiple routes to access the information they are looking for. All of this can be done alongside the inclusion of a high visibility area for keyword-driven banner ads to be displayed.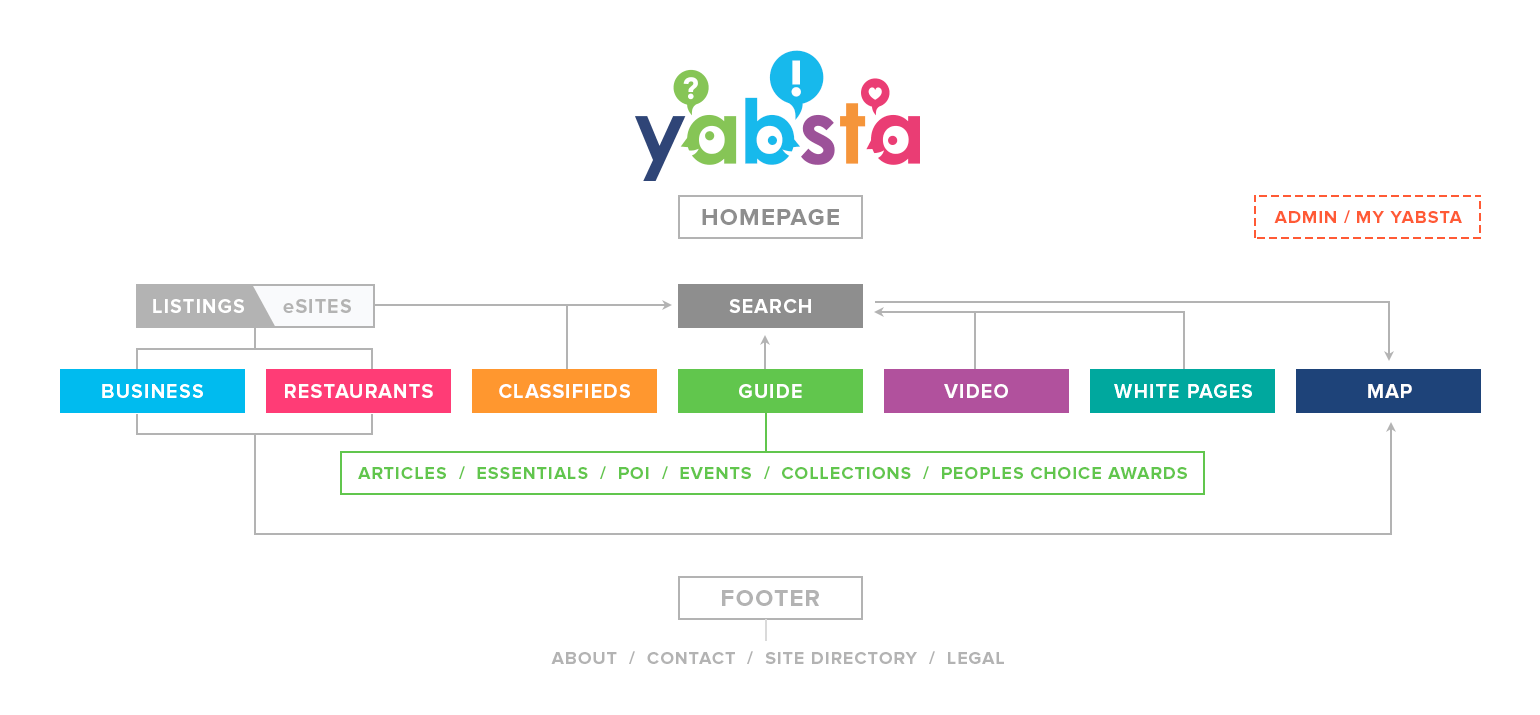 Yabsta comes pre-configured for Local Search, Media and Association usage, this includes section landing pages and content pages set-up with specific themes and templates. Sections can be easily edited and adapted to suit any requirements.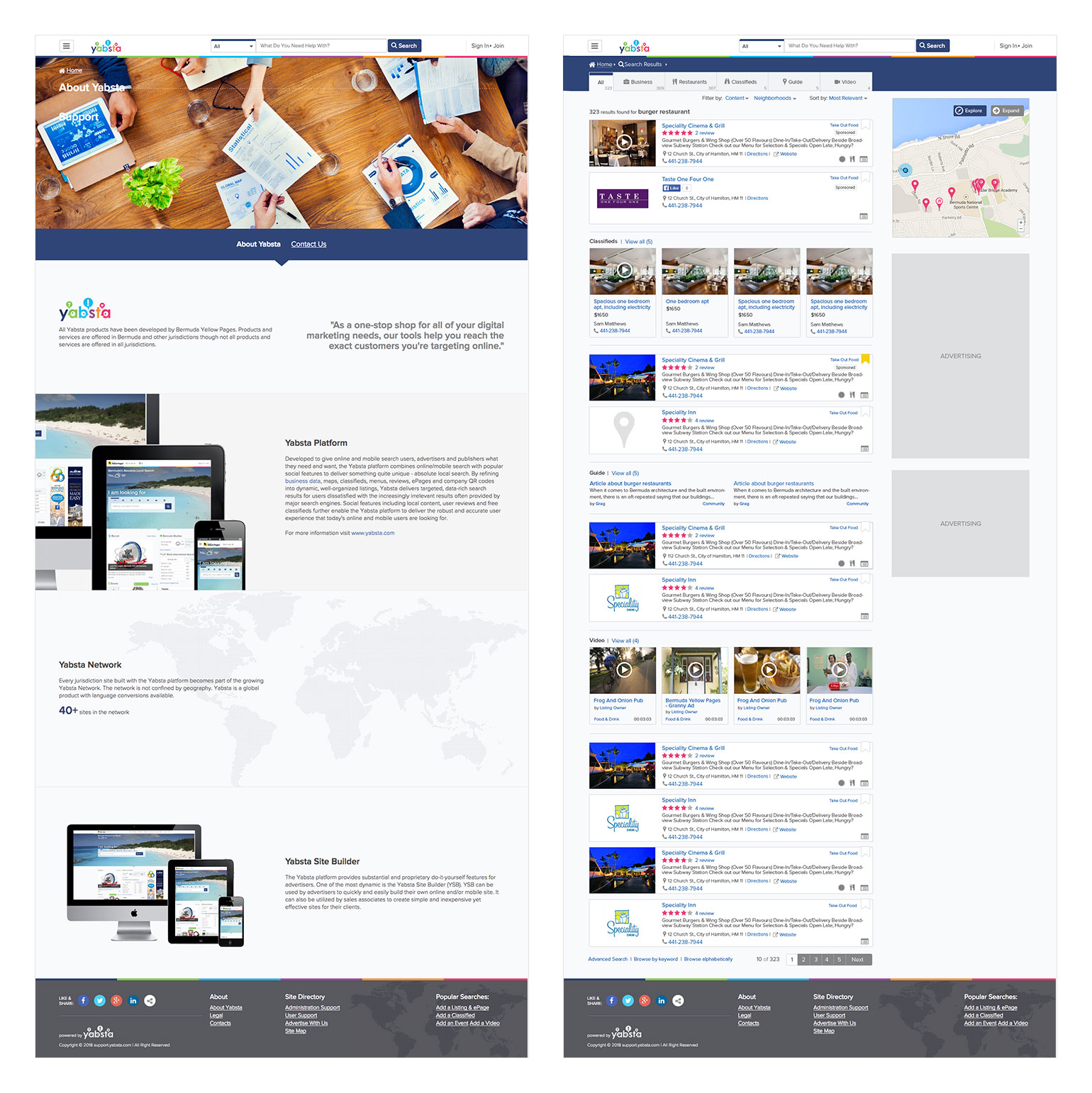 Content Pages
Content pages use a mix of templates, content and widget blocks to create and edit the layout and design of the majority of pages within Yabsta. Most features within Yabsta (articles, POIs, listings, etc) use these pre-built layouts and page designs to house the content created by Yabsta Administrative and General users. Many of the pages within Yabsta come pre-configured, which allows you to edit the template to suit your needs. Pages can also be created from scratch utilizing the built-in themes, widgets and custom HTML options. Where most general users can create content within Yabsta using the content creation tools provided, content pages are a more advanced feature requiring a skilled hand to customize the overall look and feel of a site to suit your needs.
Search
As a robust CMS, Yabsta includes a feature-rich, universal search function that includes section and content specific filters, widgets and display advertising features.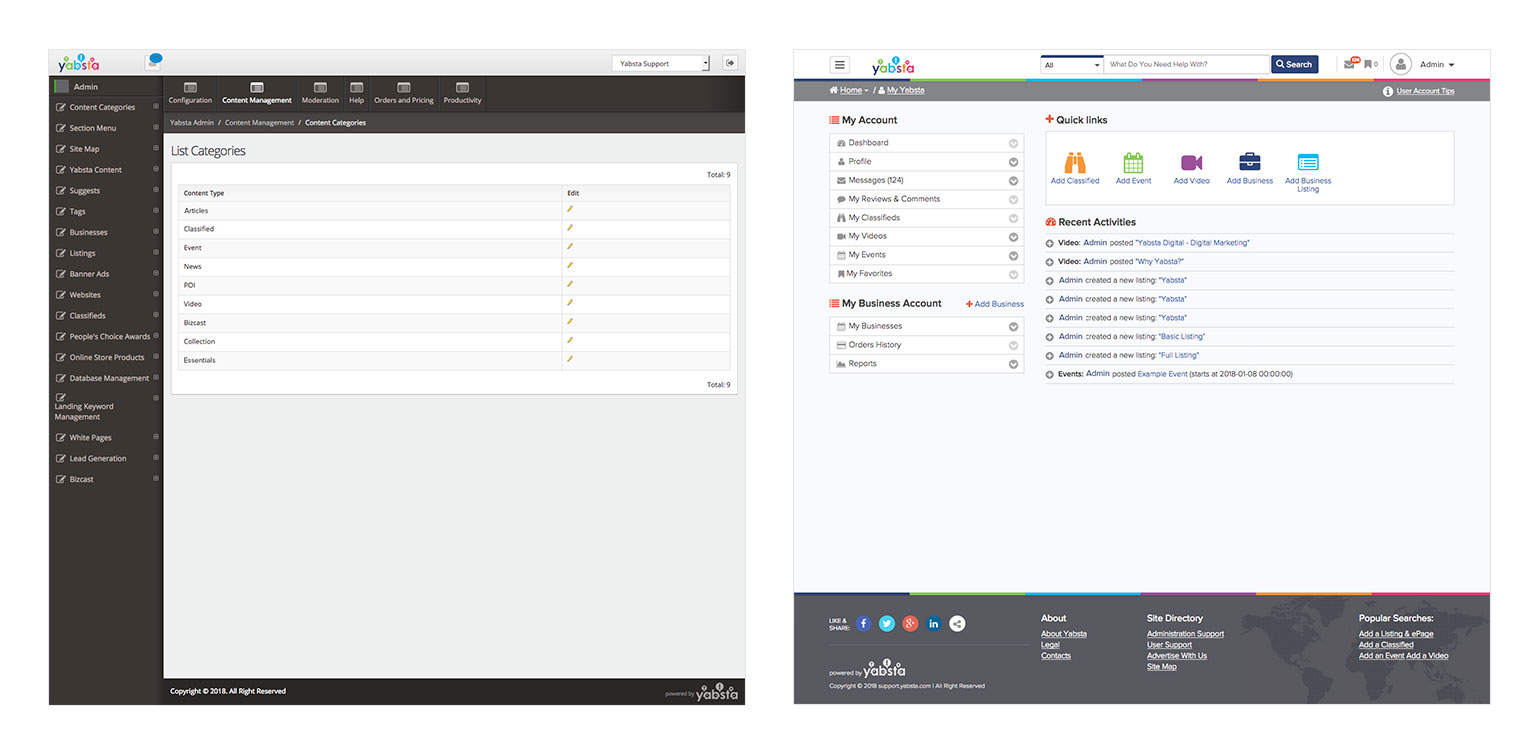 Admin Panel & My Yabsta
You are able to manage all aspects of your Yabsta website through our robust Admin Panel, including configuration changes, content and all system entity editing, widget block management, moderation, orders and more. The Admin Panel is organized by a main navigation bar at the top and a submenu for each section of the main navigation on the left.
My Yabsta is the account panel that allows users to manage their listings, banners and other items, if you provide access. An internal messaging system is also included, which allows for easy user notification of internal system notices like content moderation processes. Sales staff can also access these site features and handle or assist with client provisioning.