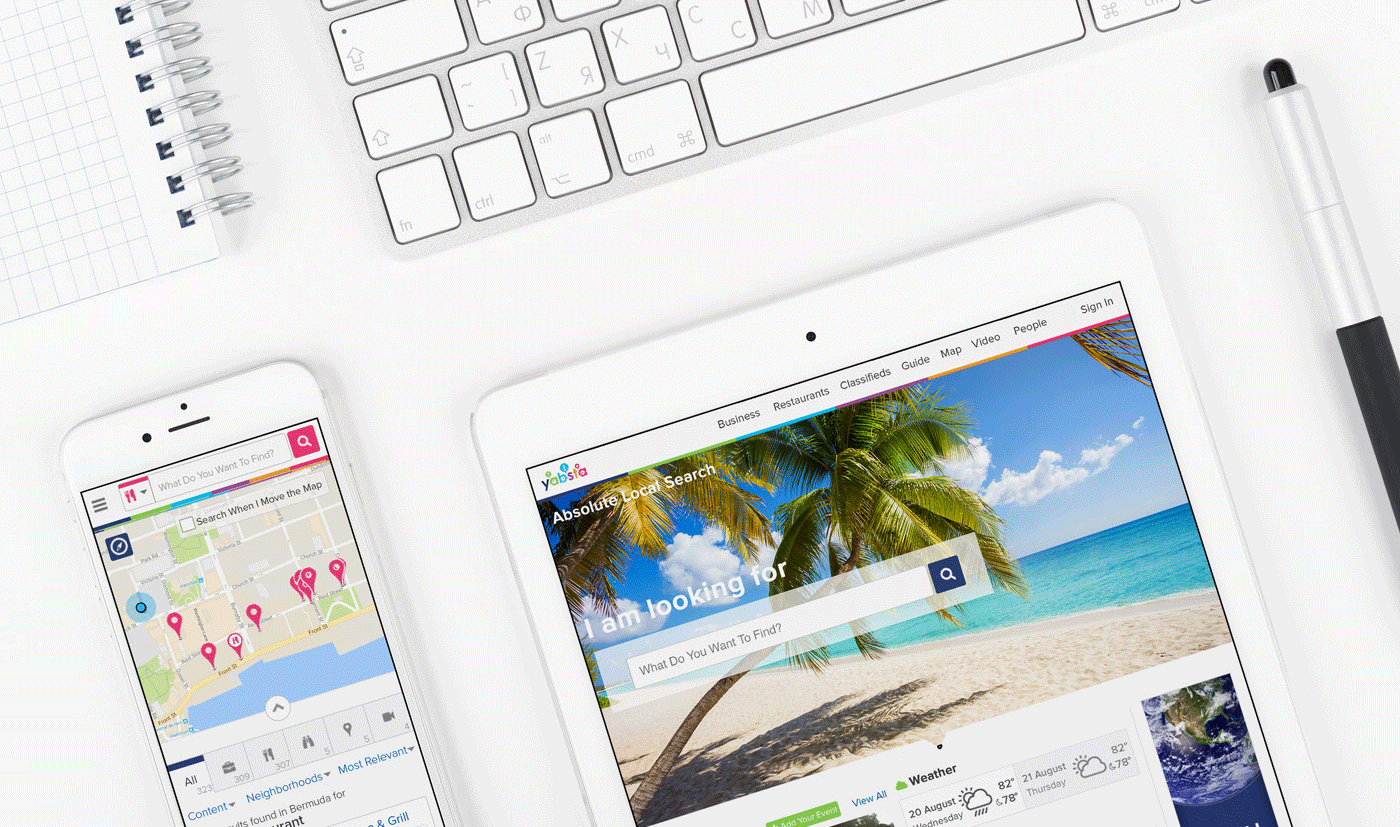 Yabsta is a content and feature-rich platform that includes a wide variety of customization and content creation tools to drive visitor traffic. It also includes a large number of revenue generating features valuable to businesses looking for easy-to-use online marketing tools.
Business Features
Listings
Businesses added to your database are found in your search results through a listing which is tied to a primary keyword. These listings include important contact information, a short description and actionable buttons for phone calls or directions direct from the listing. While uniformity in appearance allows for a streamlined layout and user experience, business listings do include icons that visually signify the further dynamic content a business may include in it's eSite. Businesses can have multiple listings each tied to a specific primary keyword. This allows for listings and eSites to be customized to suit primary keyword content.
Sponsored Listings allows for businesses to purchase priority placement of listings within search results based off of their listings primary keyword. This places the listing into a pool of other businesses which have purchased the keyword priority and places their listing as one of three at the top of the search results. The frequencey of appearance in the Priority pool is distributed by how many businesses has purchased the keyword priority.
eSites
eSites, available to all businesses on click through from their listing, feature a number of layout and content customization options, description and location interactions. Revenue generating features allow businesses to further define their brand with dynamic content directly within their eSite.
Listing packages allow for tiers of revenue generation possibilities combining keywords, dynamic content and other eSite options to allow the greatest range of benefits to cost for your clients.
Restaurants
A local search feature, Yabsta includes a pre-configured Restaurants section and allows businesses to specify themselves as a restaurant. This allows for the addition of restaurant-specific categorization and search filtering as well as dynamic eSite content like custom menus.
Bizcast
Bizcast provides businesses with a tool through which to broadcast their business announcements - great for deals, specials, new products, new services, new website or address or anything else of an announcement nature. These are not meant for general business information as that should be included in the businesses eSite or posted as a banner ad. Bizcast's posts should have a short shelf life and be set to expire once the content is no longer relevant. All textual content is indexable by both Yabsta's internal search and search engines like Google, making Bizcast a great way to be found both in and outside of Yabsta. Bizcast posts can be broadcast to the company's social media channels as well as through Yabsta's own social media channels, driving new awareness and site traffic. Bizcasts can be set up as a free value-added service for your clients or as another revenue generation tool.
Display Advertising
Yabsta allows advertisers and businesses to easily add banner ads through the platform's own internal Display Network, or connect banner ads from external Display Networks such as AdSense and DoubleClick. These banner ads can be set to display on specific content pages or contextually by keyword. Packages can be created to combine the best value for your clients as well as the best revenue generation for the site. Sponsored content options are being built into the system for advertisers and will be available in future updates.
Business Analytics & Reporting
Yabsta includes robust analytics and reporting tools for all business users.
User Features & Content
Classifieds
The free classified feature drives traffic to your site and encourages repeat visitors. This pre-configured section of Yabsta can be used within the universal search platform or as a free-standing tool. Features include customizable categorization, high quality imagery, easy to add forms, and mapping connection. Yabsta includes API connection to Oodle, allowing for automated classified generation from their network when available.
White Pages
The white pages allow for the addition of White Pages/411 directory capabilities to a local search platform and can also be utilized as a company directory tool.
User Accounts
User accounts allow visitors to register as members, adding valuable interaction to your site. Users can review and rate businesses, giving a sense of local knowledge and insight and supplying valuable feedback to business clients. Users can also comment on all Yabsta content, adding their voice to the conversation, upload content such as videos and events, save their favourite businesses and post classifieds ads. It is a great way to build a community-minded user base and improve return traffic. Administration has full control over approval of business reviews and ratings as well as moderation control of all user-added content.
Events
Events drive traffic to your site and encourage repeat visitors. Events are searchable and include a dynamic daily event widget and separate events page. Events can be tied to businesses, include images, flyers and all other relevant information.
Points of Interest (POI)
A Point of Interest, or POI, is a location-specific landmark that may be of interest to Yabsta users, such as a beach, historic site, nature reserve, lighthouse, playground or museum. This is typically a location that is not tied directly to a business and is valuable for adding locations to the map that do not have a specific address.
Articles
Articles are editorial content that use a publishing system similar to a blogging platform. This content should be interesting and compelling to users to read and share. This could include opinion pieces, "To Dos", interviews, guides and more. This content is meant to be dynamic and topical. Articles drive traffic to your site and encourage repeat visitors.
Essentials
Essentials content is what is comonly referred to as Evergreen content - Content that is always relevant to your audience. This content, when created in line with your brand, works as a strong SEO tool to help drive traffic to your site. For a local information site, this could include things like tourist requirements, transit schedules, garbage and recycling information, community services, and emergency contacts. Essentials content is published using the same system as articles but uses a different format for organizing and displaying that content. The format for displaying and navigating this content can be seen directly in use for this Yabsta User Guide.
Collections
Collections are editorial content that is specifically formatted in the popular list form. Each item can be linked to listings, POIs, events and other data. This can include "Best Ofs", "Top #", "My Favourites" etc. Each item added to the list should have a custom description to explain why it has been included (iie. In a collection of the best beaches, explain why each beach deserves to be on the list). Custom Images can be used or images can be pulled directly from the listing or POI selected.
Video
Yabsta's video platform allows you to import videos and also embed links from YouTube and Vimeo. These videos are searchable and can be linked to listings and the majority of Yabsta content.
Map
The mapping system within Yabsta uses Google Maps as a provider and is fully integrated with the majority of site content. Listings and POIs can be pinned on the map, allowing users to search content by location, providing directions for users and providing the possibility for offline mapping in the mobile app.
Explore
Explore is an automated mapping and location feature that allows users to find related or relevant businesses or POIs based on their location or the location of the business or POI they are viewing. For example, a user viewing the eSite of a hotel they will be vacationing at will see the nearest beaches, restaurants or other valuable locations of interest, all from that eSite. This is available both as listing widgets and as map pins.
Peoples Choice Awards
The People's Choice Awards allow you to set-up an automated public voting system that lists businesses, POIs and other items within Yabsta's database as well as any other category like artists, people and more. Users can vote on their favourite for a specific category. This is a great tool for driving traffic to your site, building an interactive user base and driving interest to your business clients.
Administrator Features
Technology
We use an open-source stack of technologies to power Yabsta and cloud technologies for hosting. This allows you to seamlessly scale the platform to your needs.
Data Import / Export
Yabsta is designed to facilitate the easy importation of existing data and the speedy upload of new content. You can also export data to companion software.
Site Management
You are able to manage all aspects of your website through our robust administration area including configuration changes, content and all features editing, display blocks management, moderation, orders and more.
Payment Gateways
Yabsta's multi-currency payment gateway is easy to use, convenient and secure. Payments can be set-up to accept major credit cards through Authorize.net as well as Paypal.
Revenue Generation & Management
Yabsta includes a number of revenue generation tools and standard display advertising features. You are also supplied with robust tools for accessing invoicing, payment and revenue data contained within the site.
Analytics & Reporting
You are able to collect visitor, engagement and traffic data for your site to ascertain a clear and detailed picture of performance. The platform also includes robust analytics and reporting for your business clients.
SEO
Yabsta includes comprehensive SEO metrics: optimized title tags, informative meta descriptions, engaging header tags and detailed site visit data.
API
Our API allows quick and easy integration with third-party systems of any complexity, allowing for the addition of custom solutions based on your needs. It also syncs data between our platform and IOS and Android applications.