All Yabsta Business Listings include a listing, which is found in the search results, and an eSite, which is clicked through to from the listing. There are basic eSite options for free users as well as the option to add dynamic content through paid packages.
In the Dashboard section of your account area, click Add Business Listing. If this button is greyed out, you first need to add a business account. Or, choose your business from the My Businesses sidebar and click New Listing.



Select a package based on the dynamic content you wish to add. If at any time throughout the set-up process you choose content that is not part of your package Yabsta will prompt you to upgrade.



Choose a Priority setting for your listing, this choice will allow you to push your listing to the top of the results in a pool of sponsored listings.



In the Add Listing area, the content from your business account is automatically populated by Yabsta. Adjust this content if required.



Upload a logo if this field has not been populated. Logo dimensions must be 280w x 200h in order to view correctly on all types of displays. JPEG, PNG and GIF file formats are accepted. Ideally should have transparent or white background with no border.



Carefully select a primary keyword that suits your business. If your business suits more than one primary keyword, create an additional listing for each. In each subsequent listing, you can tailor the content to reflect the primary keyword. Add secondary keywords to further specialize your business.



If applicable, add additional locations and/or contact numbers for your business.



Add a keyword-rich description and short, concise bullet points. These describe what your company is all about, such as your services, products and location, and help your listing show up in Yabsta's search results.



Select a layout type. Dynamic content is required for some options, which may only be available in specific packages.



Once you have completed all of the steps, if you selected a free package, click Publish Now. If you selected a paid package, expand your eSite with dynamic ccontent found in the Special Information tab.



Free listings are sent directly to moderation. If you selected a paid package, checkout with your payment details. Your listing is then sent to moderation for approval. In the Business Information area of your account, the Status tab at the top left of your listing will read "Not Approved" until it has been processed.



When your listing has been approved, you will receive confirmation in your Yabsta Messages. The Status tab of your listing will show as active. Your business listing is now searchable in Yabsta.


Edit a Listing / eSite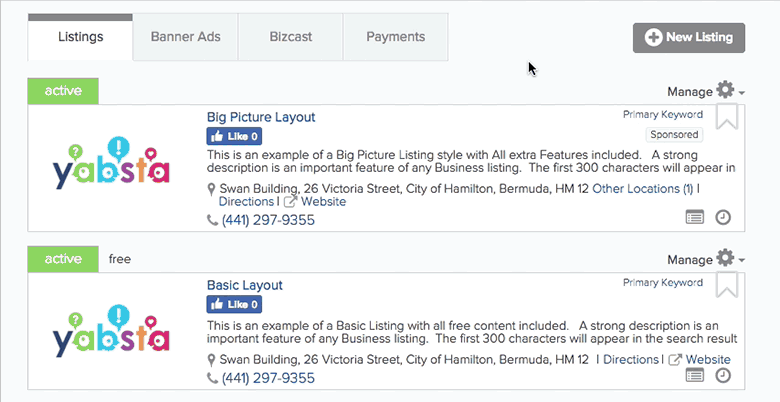 To Edit a previously created listing, select your business from you Account.


Find your listing you would like to edit and click on the "Manage" toggle on the top right.


Than click on edit to be brought to the set-up screen.


You can also delete, pay, view reports, clone and turn off your listing from the Manage toggle.